Top 5 WordPress Hosting Websites
A good web hosting service is essential for the success of a website. It can also ensure that all visitors are served with consistency and speed.
Before looking at our top 5 picks for web hosting providers, let's look at some of the important attributes of web hosting.
Compatibility with WordPress requirements is the most important point to look at. These include supporting the latest versions of PHP (7.3+), MySQL (5.6+) or MariaDB (10.1+), and HTTPS support. A good web server that supports PHP and MySQL is also required, WordPress recommends Apache or Nginx.
Additionally, it is important to look at characteristics such as:
Page loading speeds - ideally 1 second

Uptime - usually above 99.95%

One-click setup

Reliable 24/7 online support
Price plans are also important, but the experience of visitors should be the determining factor.
Our top 5 web hosting pics
1. Bluehost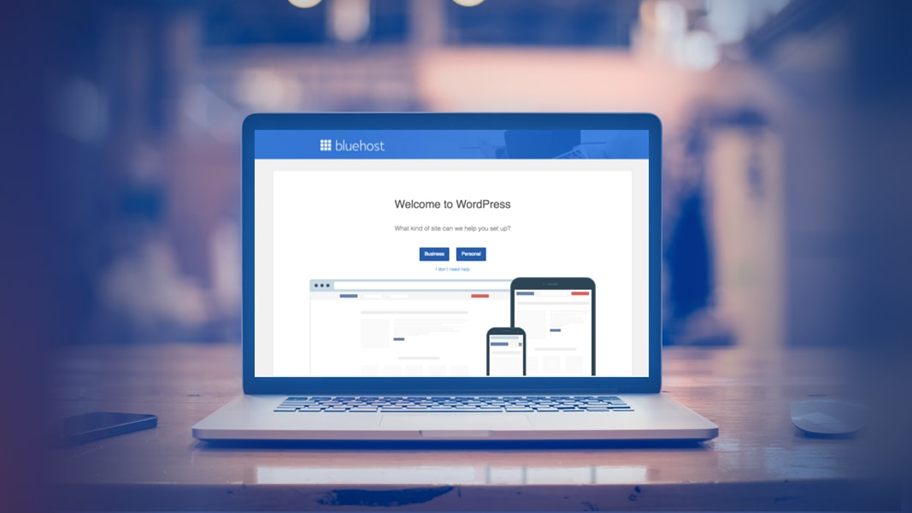 Bluehost is one of the best-known names, if not, the best in web hosting. With over 2 million website installations, Bluehost is one of the three recommendations by WordPress, placing them at the top of our list.
Tuned especially for WordPress, they offer many features such as one-click installation, a free domain and SSL (1st year), email and 50GB of storage along with many other standard features on all plans. Starting at $2.95 per month ($7.99 after renewal) with the Basic plan when signing up for a year, Bluehost's Plus and Choice Plus plans offer unlimited websites and storage, automated backups, and more for just a few more dollars per month.
Another most prominent benefit of Bluehost is their 24/7 online support powered by WordPress experts. The quality of online support has a big impact on selecting a vendor. Although most of the prominent names offer almost the same set of services Bluehost is the best.
Bluehost's transparency with regards to the feature set offered with each plan and their renewal rates is exemplary.
2. SiteGround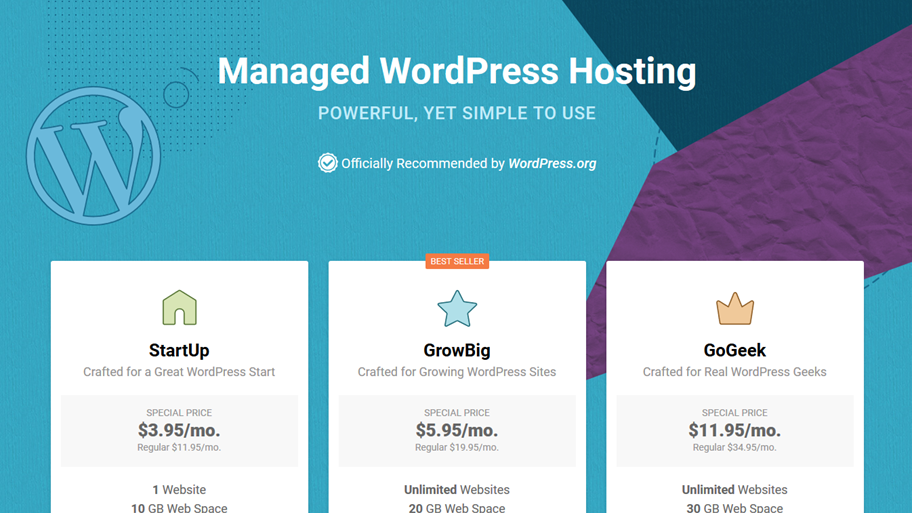 SiteGround is another one of the three WordPress recommended web hosting vendors. While a free domain is not provided, it offers 10GB of storage, SSL, email, good 24/7 online support and daily backups along with most of the other standard features starting from its most basic plan "StartUp".
Advanced backups, priority support, high availability tier servers, version control, and even white labeling features are offered on higher plans. In comparison to Bluehost, SiteGround offers considerably less on storage and limits website visits per month. This can be a show-stopper for sites that expect a lot of traffic.
SiteGround's plans start at $3.95 per month ($11.95 after renewal) when signing up for a year, with their GrowBig and GoGeek plans being offered at considerably higher rates. While this may not be the most appealing option for most website owners, the advanced features offered on higher price plans offer great value for money.
3. DreamHost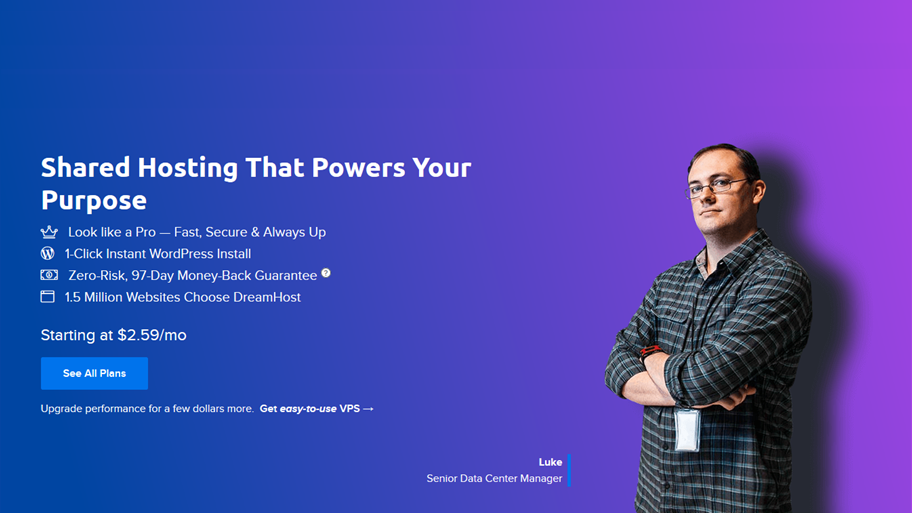 Starting at $2.59 per month on their "Shared Starter" plan, DreamHost offers the cheapest rates for web hosting on our list. DreamHost is also one of the three vendors recommended by WordPress and offers most of the standard features such as a free domain and SSL (1st year), unlimited storage, and traffic on all plans.
One disadvantage is that email is not provided on the "Shared Starter" plan. It costs an additional $1.67 per month making their claim of starting at $2.59 look a little less transparent. Furthermore, this rate is only applicable when signing up for 36 months.
DreamHost offers many price plans on managed servers and Virtual Private Servers (VPS) at very reasonable rates. These plans offer all of the standard features. In addition, they provide the Jetpack plugin which enables monitoring and protects your website from external attacks.
4. HostGator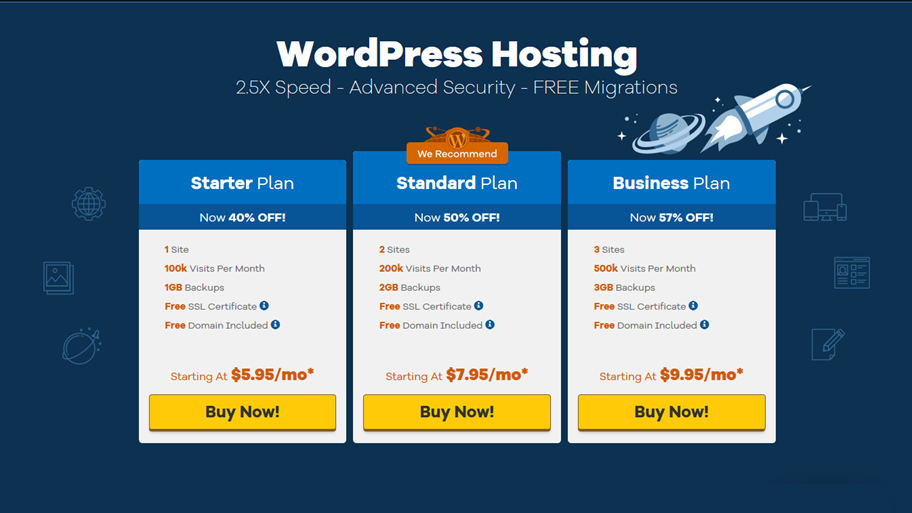 HostGator is a well-known hosting provider with over 10 million domains hosted on their servers. Starting at $5.95 with their "Starter plan", HostGator offers most of the standard features such as a free domain and SSL (1st year), 100,000 visits per month, email and even backups, which is a feature rarely offered in this price range by other vendors.
While the starting price is not as competitive as those offered by our top picks, HostGator does offer Managed Servers making it more attractive to advanced users. Smart caching and a CDN which are offered on many of the plans, improve site performance. In addition to these benefits, HostGator also provides AdWords and Yahoo Search credits and a 45-day money-back guarantee.
5.WPEngine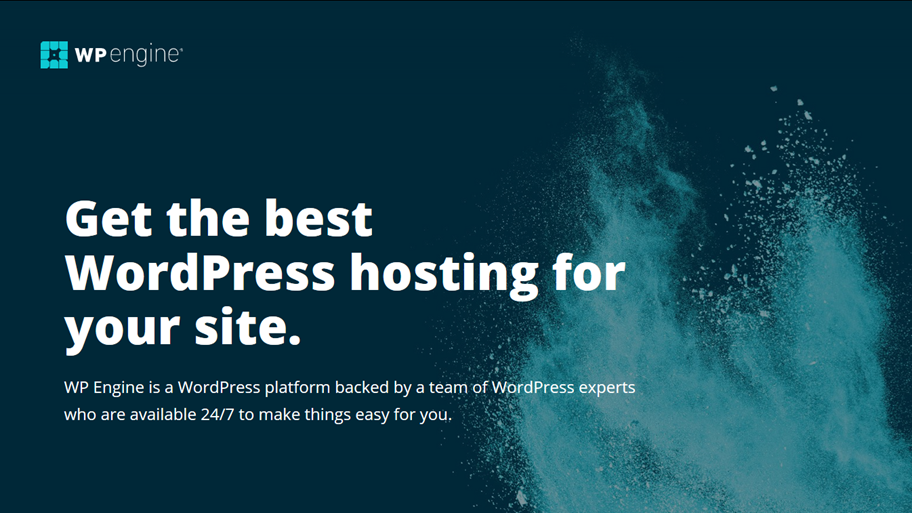 WPEngine is the most expensive vendor on our list. Despite this, we decided to include it as they offer a multitude of features that are important to advanced users.
Starting at $31.50 per month, WPEngine's WordPress hosting plans offer most of the standard features along with many advanced features like staging environments, Geo-targeting, high transfer bandwidth, and much more.
One of the more appealing features for designers and developers is the Genesis Framework and 35+ StudioPress themes which are provided with all plans allowing you to design beautiful websites. Global CDN and LargeFS (Amazon S3 integration) allow for advanced management of static assets. This allows for better bandwidth management, especially if storage and bandwidth are limited.
Conclusion
The web hosting provider you pick will depend on the features that are important to you and pricing.
However content delivery is an important factor to consider if your website has a lot of static assets. Managing this process will make your site load faster and also reduce the bandwidth requirements for visitors, but only some of these vendors provide a CDN, especially when considering their starting price plans.
Publitio's WordPress off-loading plugin is a great tool to invest in irrespective of whether your web hosting has a CDN or not. It can help to optimize images by resizing them to a quality that best suits your website and can also host them externally, in case, storage is restricted on your hosting plan. Also make sure to have full backup on play of your media files.