Top 7 Wordpress Backup Tools
Your website is an essential part of your business, and you may have spent a considerable amount of time and money building it. However, it will only take seconds for it to be lost due to technical failure, hacker attacks, or even a careless key-stroke.
Therefore, having a reliable backup process is of the utmost importance. There are many free and paid tools for this purpose, and we'll be taking a look at our top 7 picks in this article.
Our Top 7 Picks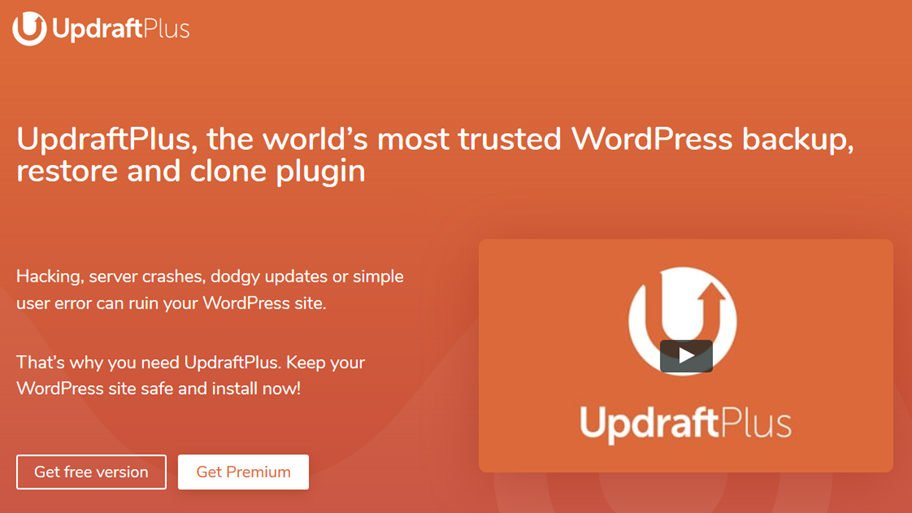 UpdraftPlus is a tool for managing backups of WordPress websites, and it's free!
Trusted by over 2 million WordPress sites, UpdraftPlus has an easy-to-use dashboard that allows you to backup and restore with a single click. Backups can be done manually or be scheduled and sent to a computer or the cloud hourly, daily, weekly, fortnightly, or monthly.
Only a few tools fully integrate with WordPress and UpdraftPlus is one step ahead in this regard. It allows you to restore backups directly through the WordPress control panel. Premium features include cloning, incremental and multisite backups, personal online support, and many other advanced features related to backups and storage.
Pricing: Free (UpdraftPremium Personal for $70)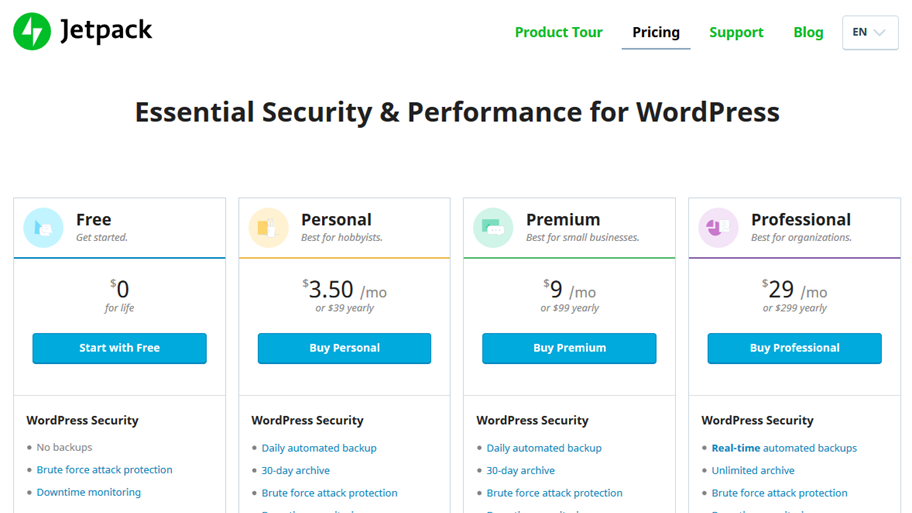 VaultPress is the backup tool of Jetpack, a versatile tool for WordPress site monitoring, security, and backups. They are recommended by WordPress and many popular hosting services such as Bluehost and DreamHost.
Jetpack provides users with a free-tier. However, backups are only supported in their "Personal" plan ($3.50 per site, per month) and upwards with a 30-day backup archive. Their "Professional" plan ($29.00 per site, per month) allows unlimited archiving.
VaultPress comes with many additional features through the JetPack plugin, but it also entails some disadvantages. The setup process is relatively more complicated as you need to set up Jetpack as well. Their per-site pricing model is another concern if you have multiple sites.
Pricing: From $39 per year for JetPack Personal plan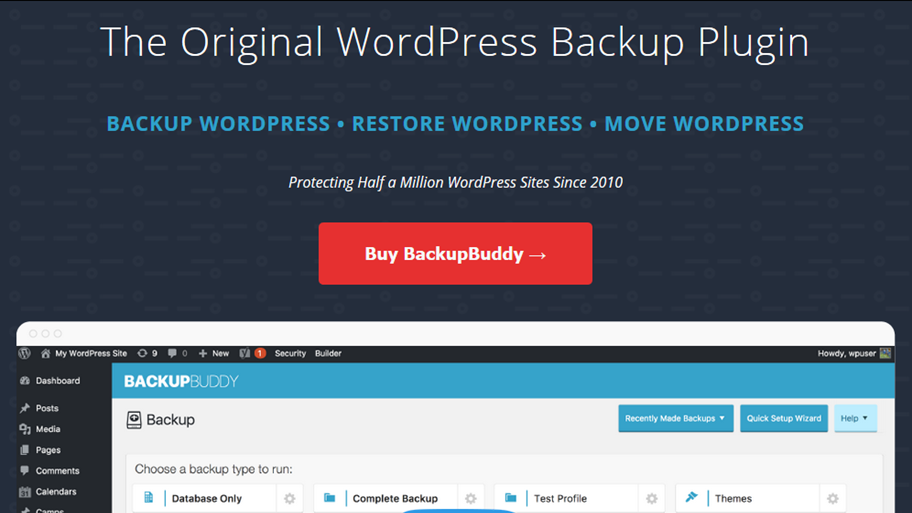 BackupBuddy is a reliable backup tool used by more than half a million WordPress sites. It provides most of the standard features such as backing up to the cloud, emailing, and scheduling backups.
One interesting feature is that BackupBuddy allows restoring individual files. This can be very useful when you know the exact files to be restored as it reduces downtime compared to restoring the entire site.
The main advantage of BackupBuddy is that you only buy a one-time license for a specific number of sites, starting at $80.00 for 2 sites. This license comes with additional premium features for the first year.
BackupBuddy's "Stash live" cloud platform allows real-time backups as part of these licenses.
Pricing: From $80 per year for the Blogger plan for 2 sites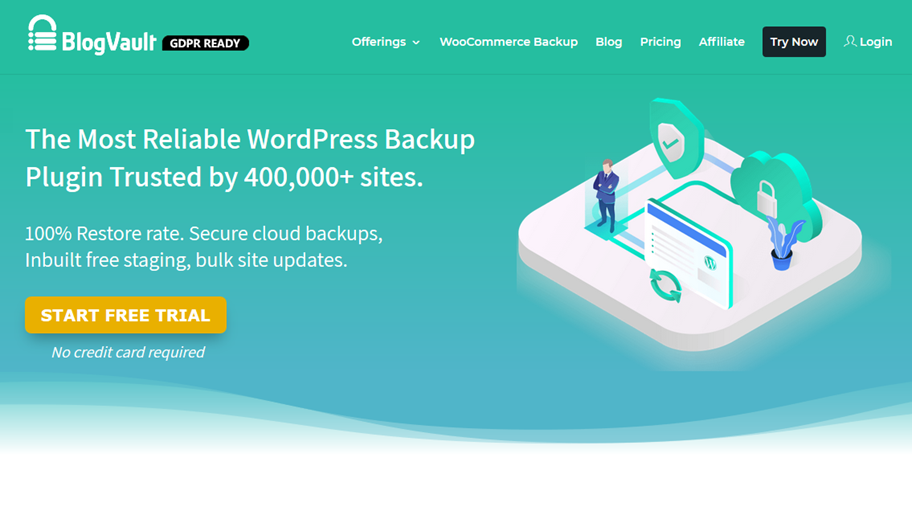 BlogVault is a popular backup tool for WordPress. It offers a unique proposition as a "Software as a Service (SaaS)" solution, which removes the load of creating backups on your server. Creating incremental backups further reduces the load on the server even further.
Features such as scheduled daily backups, unlimited manual backups, and one-click recovery, as well as some premium features such as incremental backups and a built-in staging environment, also come as standard.
The main disadvantage with BlogVault is that its subscription is considerably high, starting at $89 per site, per year. However, this may be justifiable considering the performance benefits it offers and also because it is GDPR ready.
Pricing: $89 per year for Personal Plan (1 Site License)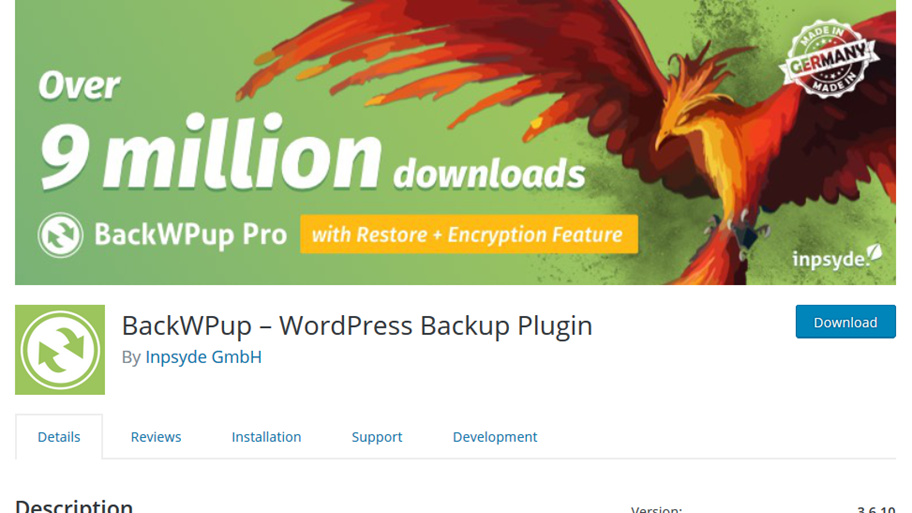 BackWPup is another free pick on our list that offers many of the features of a premium tool. It supports both manual and scheduled backups and uploading to the cloud (Dropbox, Amazon S3, Rackspace), FTP, emailing, and saving to your computer. Restoring backups is also quite easy.
Pro features include backing up to Amazon Glacier and Google Drive, multi-site support, online support, and backup / restoring directly from within WordPress. Encrypting backups is also supported as part of the Pro plan.
BackWPup is also GDPR ready.
Pricing: Free. Pro plan at $69.00 for the first year, $39.00 renewal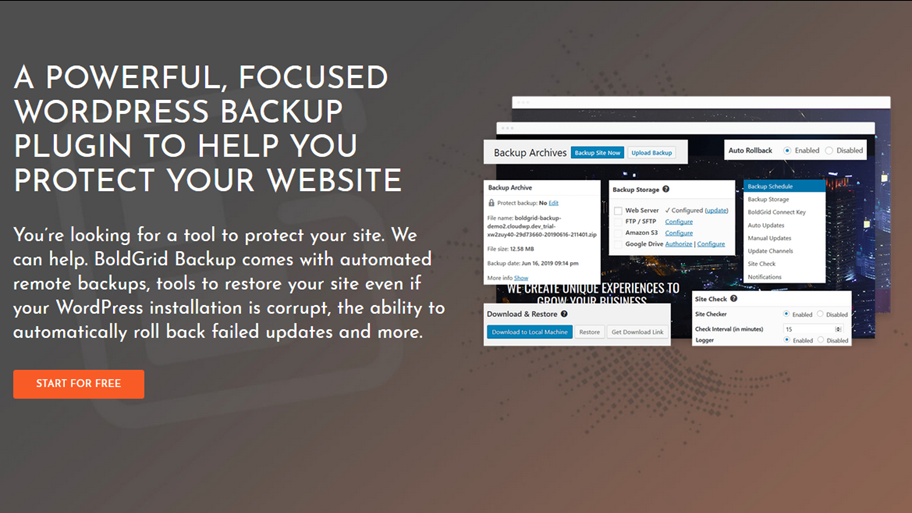 BoldGrid Backup is another tool from the team that built the well-known BoldGrid website builder.
BoldGrid supports both manual and automatic (scheduled) backups and recovery. It supports uploading scheduled backups to Amazon S3 and Google Drive and also enables you to move your website when migrating to a different host quickly.
Fault Protection is an impressive feature offered by BoldGrid. It automatically creates a backup of the site before any update is made. If an update error occurs, the site will be rolled back to the latest stable backup. Individual file restoration is also supported. The Dashboard provided by BoldGrid allows bookmarking of up to 10 backups for quick access.
Pricing: $30 per year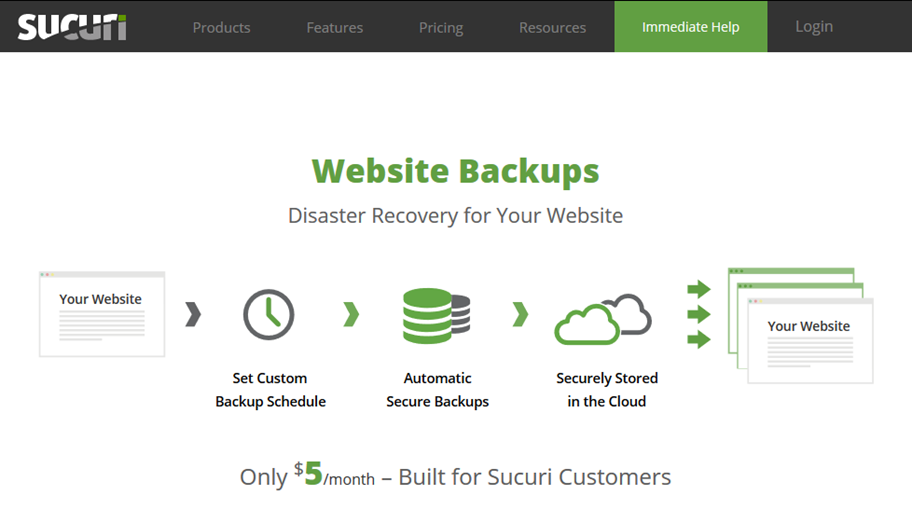 This tool is part of Sucuri, which is a security and performance platform that provides a firewall, malware monitoring, malware removal, CDN, and much more, including backups.
Sucuri Backup is a SaaS implementation, and as such, there is no configuration required to create backups. Backups happen on Sucuri servers via SFTP, reducing the load on your server. This is especially important for larger sites. Automatic daily backups will be created with the possibility of manual backups when needed.
Backups are stored securely in Sucuri's cloud storage for up to 90 days. The Sucuri platform brings you many other benefits in addition to its robust backup and recovery features.
Price: $5 per site, per month (Requires the Sucuri platform - $299 per year with SSL)
Conclusion
Our list offers many options for backing up your WordPress website. Irrespective of which one you select, we recommended that you store your backups in more than one location.
Most of the picks on our list support this, so selecting a backup tool should be easy. Just select one that suits your needs based on price and the many additional features provided by each tool.
A CDN is another important requirement for your website as it manages all your static assets like images. If you don't already have one, consider what Publitio's WordPress off-loading plugin can do for you.
Publitio can fully take over serving images and other static assets of your website so that they can be optimised through cropping and resizing. You can even delete assets from your website if storage is limited. Make sure to try out Publitio today.